What is the Mill Plain BRT project?
C-TRAN has begun developing its second bus rapid transit system, which will serve Vancouver's Mill Plain corridor. Bus rapid transit, or BRT, uses a variety of features to move passengers more efficiently and reliably. Those features could include larger buses, improved frequency, transit signal priority, off-board fare payments, level boarding platforms and more.
Is this the same thing that's operating on Fourth Plain?
Sort of. We expect the Mill Plain BRT system to be another branch of The Vine, which launched on the Fourth Plain corridor in 2017, but it may not be exactly the same. Mill Plain is a different corridor with different characteristics, and we'll be working closely with residents, businesses and others to make sure the project reflects the needs and the identity of the area it serves.
Why Mill Plain?
After Fourth Plain, Mill Plain is C-TRAN's second-busiest transit corridor. Route 37, which currently serves Mill Plain, carried more than 776,000 passenger trips in 2018. That strong ridership—and the ability to compete for federal funding—make Mill Plain the next logical step for BRT in Clark County right now.
Where will it go?
The Mill Plain BRT project's Locally Preferred Alternative would serve downtown Vancouver via Evergreen Boulevard, and extend east to a new transit center on East Mill Plain Boulevard near 192nd Avenue. The preferred alternative was adopted by the C-TRAN Board of Directors after extensive comments from the public, stakeholders along the Mill Plain corridor and others.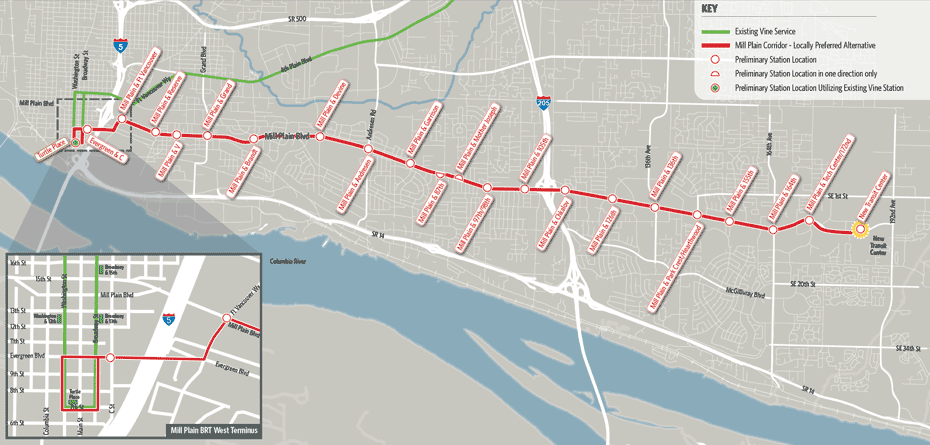 What about Highway 99?
While Highway 99 has been identified as a possible future BRT corridor, we're not there yet. But C-TRAN will continue to look for other ways to improve transit service along Highway 99, such as traffic signal technology, which has improved travel times on that and other routes in recent years.
How much will the Mill Plain BRT project cost?
Until the details of the project come into clearer focus, we don't know the exact cost. C-TRAN will work with the Federal Transit Administration to ensure that the project is eligible for a major grant, and we'll seek other funding sources as well. And we can say this: C-TRAN operates debt-free, and that won't change with this project.
Will it cost more for me to ride?
Nope. Passengers riding BRT on Mill Plain will pay a regular Local fare, just like they do on The Vine on Fourth Plain.
When does it open?
The system is tentatively scheduled to open in 2023. Stay tuned!