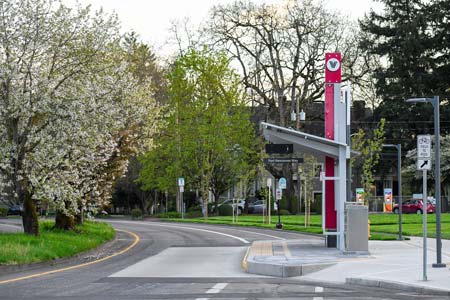 It's official: The Vine on Mill Plain, C-TRAN's second bus rapid transit line, will begin service on Sunday, October 1. C-TRAN will celebrate with a grand opening event on Saturday, September 30, including food, giveaways, family-friendly activities and more. The grand opening celebration will begin at 1 p.m. Saturday, September 30, at the new Mill Plain Transit Center, 601 SE 184th Ave., Vancouver.
Construction for The Vine on Mill Plain originally broke ground in September 2021. Its opening will build on the success of The Vine on Fourth Plain, which began operating in 2017 as the region's first bus rapid transit system.
Mill Plain is a unique corridor with its own identity. It's C-TRAN's second-highest transit ridership corridor, making it the logical next step for bus rapid transit in Clark County. But it's also plagued by chronic and worsening auto congestion. The Vine will improve transportation options on one of the Vancouver's key corridors, improve travel times and continue moving Clark County into the future.
Bus rapid transit offers an array of features and options to make travel more efficient and reliable along a given corridor. C-TRAN will be working closely with residents, businesses and other stakeholders along the corridor to ensure that the project reflects the needs and character of the area it serves.
Get ready to party! Come join us at our grand opening celebration for The Vine on Mill Plain. Get the details.