SUMMARY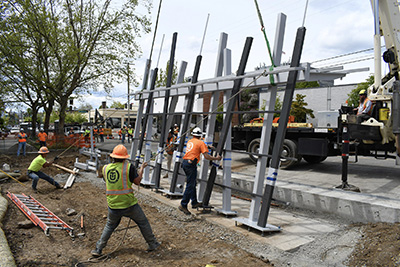 Construction activity on the Mill Plain corridor continued at full speed in May, with more substantial work occurring at some locations as future BRT stations begin to take shape. Overall, construction remains focused primarily on the west side of the project corridor. Specific tasks have included excavation, sidewalk work and adding concrete bus pads in the roadway. Crews have also set the foundations of what will become station platforms at several locations. On the east end of the corridor and elsewhere, preparations continued for fiber and utility work that will happen concurrently with station construction.
MILESTONES
In May, workers installed the first steel shelter structures at two locations: Evergreen and C Street in downtown Vancouver, and at Mill Plain and V Street along the corridor. Additional shelter structures will continue to arrive in the coming months as work progresses at other locations.
WHAT'S NEXT?
Station construction will continue on the west end of the project corridor in June. Crews will begin work at some new locations as activity at other sites winds down. That's part of the phased approach to construction, so different locations see activity at different times. For fiber and utility work, activity will increase on the east end of the corridor.
Construction Phase Map

---
Questions or concerns? Call or text the Mill Plain BRT construction hotline at 360-953-3330, or send an email to This email address is being protected from spambots. You need JavaScript enabled to view it..