SUMMARY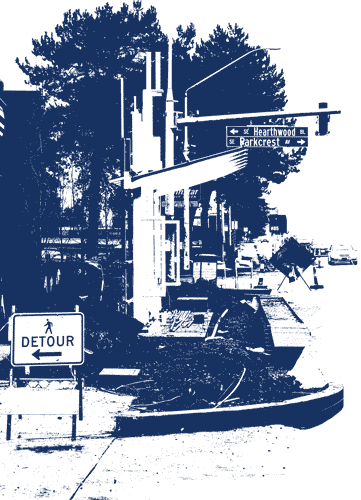 Construction activity on the Mill Plain corridor continues at full speed, with more substantial work occurring at some locations as future BRT stations continue to take shape. New construction activity has shifted mainly to the east side of the project corridor, as some work continues farther west. As work progresses, station platforms and sidewalks are largely complete at numerous locations. Shelter structures have been installed at 27 locations. Meanwhile, fiber and utility work continues to happen concurrently with station construction.
MILESTONES
In February, crews installed four more shelter structures at future BRT stations. Workers also began construction at several new locations in February, with nearly all sites now having started work. Workers also continued work on the new Mill Plain Transit Center at the east end of the corridor, near Mill Plain and 184th Avenue. The new facility will open as part of The Vine on Mill Plain, serving the new bus rapid transit line, plus other Local bus routes. Construction on the transit center will continue in the coming months as individual stations are built along the rest of the corridor.
WHAT'S NEXT?
Construction activity will continue primarily on the east end of the corridor in March, with future Vine platforms and shelters being installed at multiple locations. Meanwhile, work will wind down at other locations. That's part of the phased approach to construction, so different locations see activity at different times. For fiber and utility work, activity will continue throughout the corridor.
Mill Plain BRT Corridor Map

---
Questions or concerns? Call or text the Mill Plain BRT construction hotline at 360-953-3330, or send an email to This email address is being protected from spambots. You need JavaScript enabled to view it..